What We Do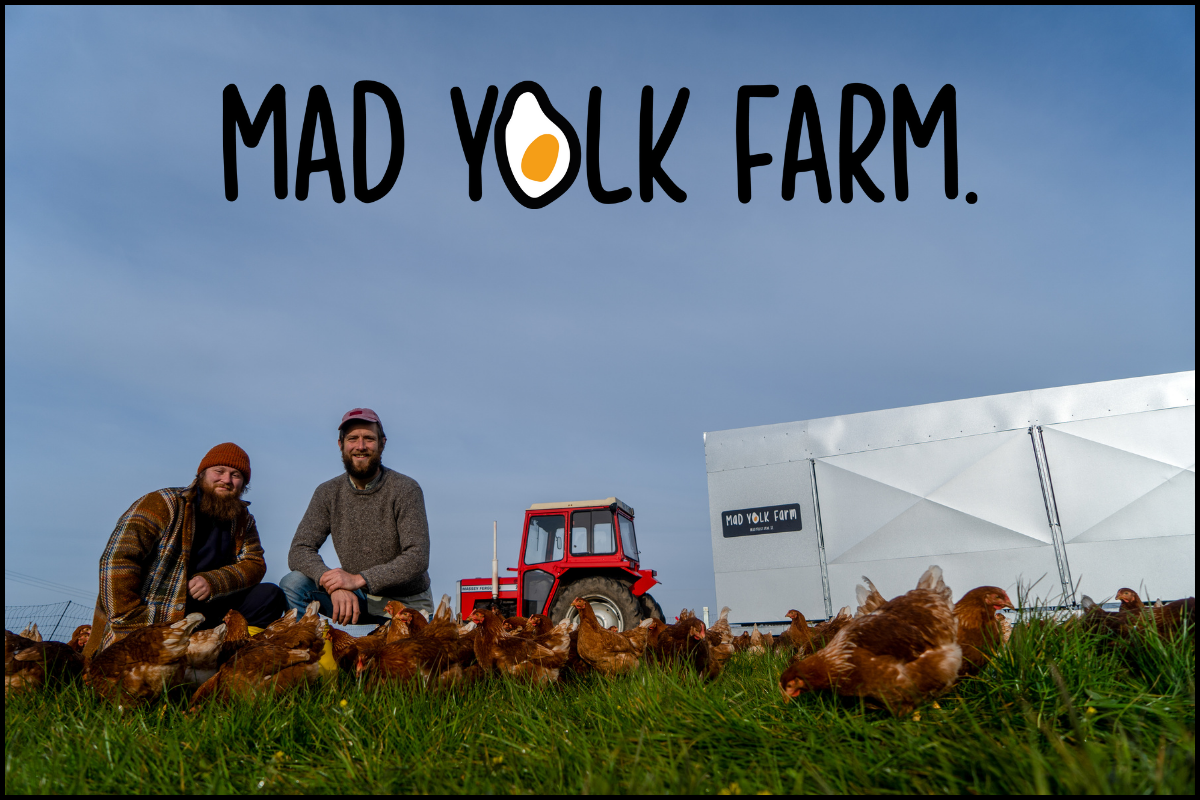 We're Mad Yolk Farm. Your local online Farmer's Market.
We operate a weekly click and collect service in Galway.
Buy online. Collect in Person.
We want to tell you a little bit about our farming methods and the food we produce ourselves.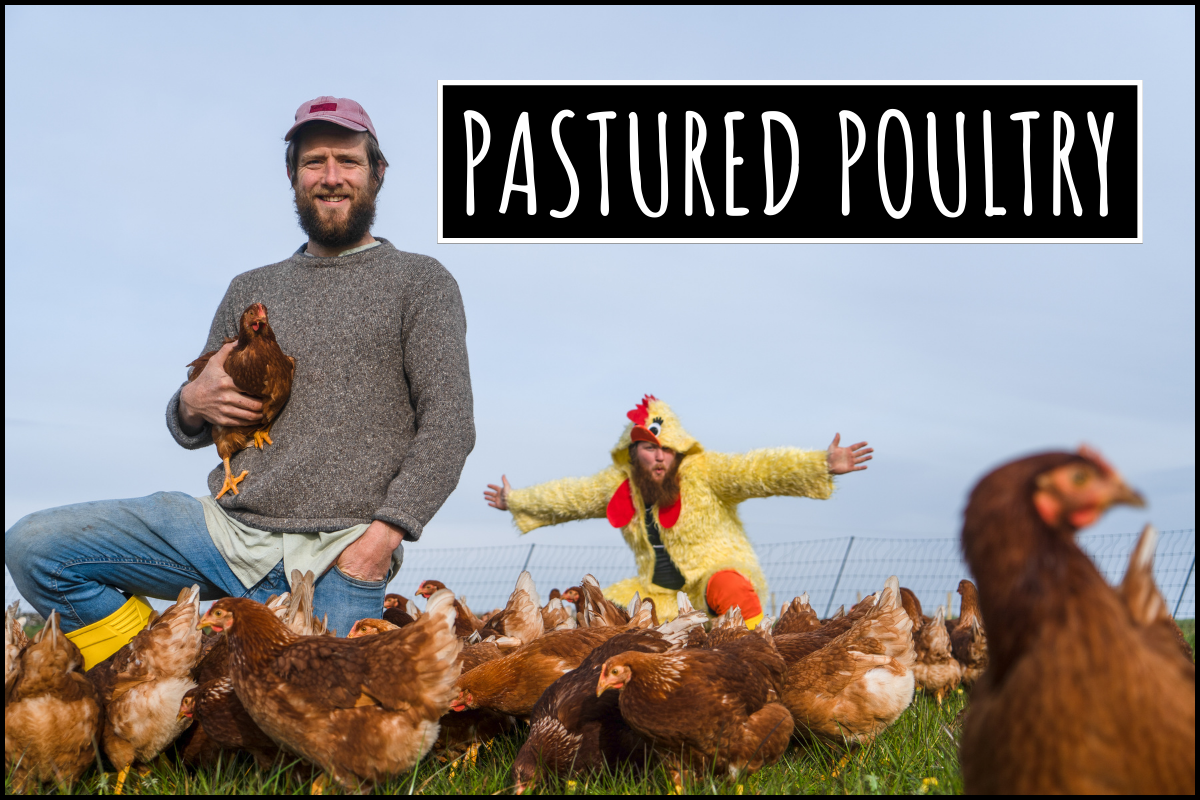 What in the world is pastured poultry?
We produce free range eggs from pasture raised hens only fed on Organic grain.
Our chickadees are bobbing about on fresh grass all day long.

They are moved regularly onto fresh grass in our mobile chicken caravan.
The ladies constantly get to forage for insects and wild greens making your eggs very healthy and your yolk super yellow.

When we move the birds the pasture gets to recover and grow naturally leading to an increase in biodiversity (more wildflowers and varied grass species) helped along by all the chicken sh*t left behind!
Say goodbye to bare fields with short grass; say hello to rich pasture, happy hens and healthy eggs.

Brian is the Mad Yolk Egg Man and he collects the eggs and dances with the chickens every single day.
The eggs go straight from us to you. No middle man and no unnecessary transport, just a direct relationship between the farmer and the customer.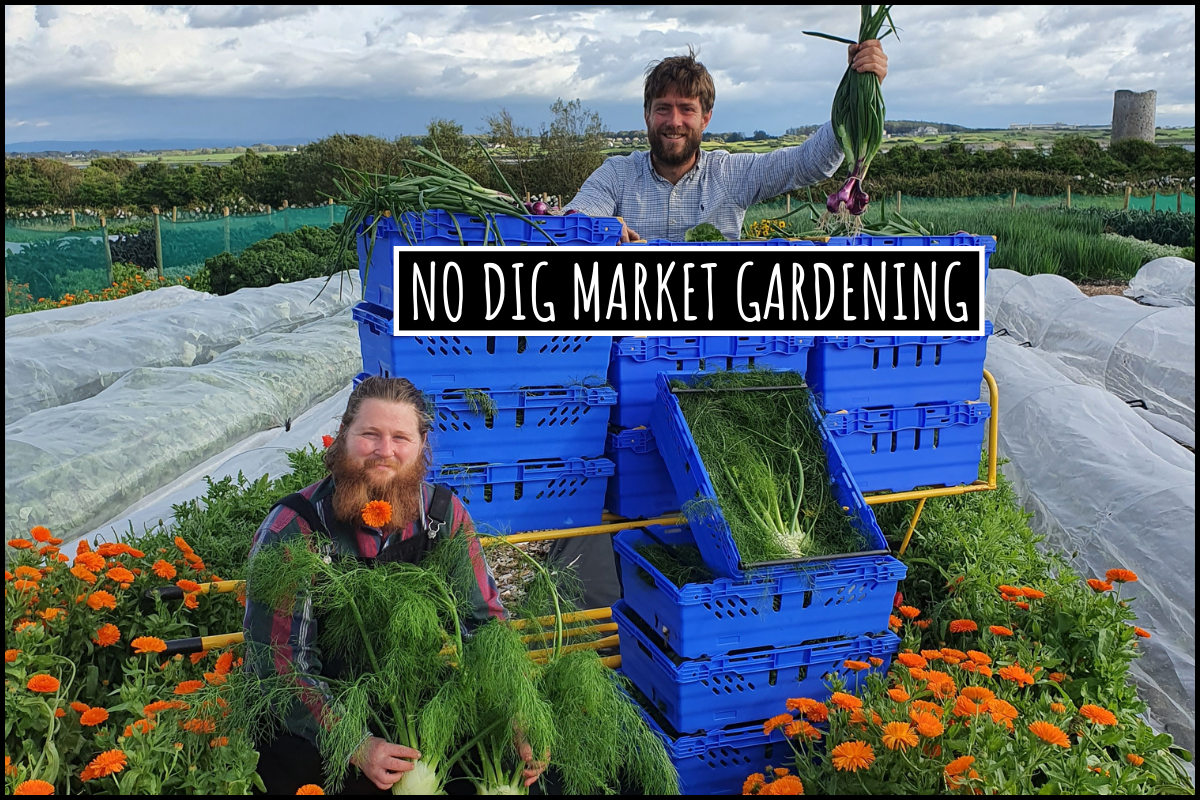 We grow veggies, herbs, flowers and salad in No dig beds.
No dig is a gardening technique that involves laying compost on top of cardboard on top of our grass and weeds to make beds to grow in.
We then add a small layer of compost each year.
Why do we do this?
So we can add fertility to our land and not disturb the soil food web.

Soil is a very complex system so we don't want to interfere; everything we need is in the compost we add and already available in the ground.
No dig gardening unlocks the potential already living beneath us by keeping soil alive.
There's a cheeky bonus. We barely have to weed. Woohoo!
Using no plough, big machinery, or chemical sprays means we can grow more in less space.

We're welcoming Mother Nature and her processes back to our land naturally over time.
This allows the merry dance between fungi, bacteria, worms, bugs, water, air, and the sun to thrive.
No dig gardening is a tool in our arsenal that grants us a meaningful life farming without harming or messing with our environment.

Joe is the Mad Yolk Veg Man. He watches over the plants and sings to them every day.
Him and his team harvest fresh from the field straight to our collection points and markets.